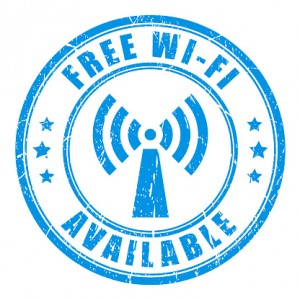 For some people, being without Internet is like being without air. They can have various devices that they use to connect to the Internet, but most will be connected to their home network. So, what do they do when they are out? They connect to a free Wi-Fi hotspot. Most places have them now, such as McDonald's and Starbucks, for example. So they go in, grab a coffee, and log on. But what happens when they log onto a free hotspot? There are many things that can go wrong.
True Hotspot?
It is easy for someone to set up a fake hotspot in a public location. When they do this, all of the unsuspecting individuals are handing their information over freely. They can connect with their laptop, iPad, smartphone or any device that can connect to Wi-Fi. Think for a moment what information you have on each these devices. How would you feel about handing that over to someone else? This information is not only what is contained on the device, but also what you are currently doing on the device, as well. So your online banking information is being captured, along with any other site you use that is password protected.
I Would Know
Not necessarily. Avast, a security company, set up fake free Wi-Fi at a Barcelona airport. They wanted to see how many people would freely connect to their hotspots with no reservations. They found out quite a few did, more than 2,000. They used the information gathered to illustrate how easy it was to gain access. Here's what they discovered:
About half of the devices connected were Apple, and slightly less were Android
About half of the devices had Facebook installed.
1 percent had dating apps installed.
About 2.5 percent had Twitter installed, and 2 percent had Spotify.
What Can I Do?
One thing you can do is to use a virtual private network (VPN) when you surf the Net on free Wi-Fi. This creates an encrypted connection, so that when you are connected to free Wi-Fi no one can see what you are doing. There are many choices available depending upon your needs.
Another choice is to have a mobile hotspot and bypass the need to connect to free Wi-Fi altogether. You can purchase these as part of your phone/data plan, or purchase them separately. It will depend upon your phone/data plan.
Take Away
You must remain vigilant in the cyberspace. Arm yourself with the tools that you need to keep your information private.
Want to know more? Call (403) 457-1478 or email us at info@ctechgroup.net to assist you with your Wi-Fi options. CTECH Consulting Group is here to handle all of your information technology needs.
My passion is to make my mark on the world in a positive and lasting way. I want to set an example for my son that his father can compete with integrity in today's world, be very successful, and leave the world a better place for him.
Combining my technical/business-based education with a long career steadily progressing up the corporate ladder, I decided to build a company that held true to my values. So, I founded and designed the next generation of IT support firm: CTECH Consulting Group Inc. We are a completely automated, cloud-based IT company designed to compete against any other IT firm without the overhead. We promote a lifestyle to all our staff where they can work anywhere, at any time, access any information on any device that is relevant to their job, and collaborate with anyone they want to.