Cut costs and keep focused on central business objectives by outsourcing your IT support services.
Thanks to the fast-paced and technology based society we live in, all businesses – regardless of size, industry or objective – are reliant on the use of at least some kind of technological support. Similarly, all businesses have surely encountered the frustration that accompanies the complexity of a variety of IT issues. Well-understood technology and effectively running networks are critical to the functionality of any business – even small businesses with limited financial resources to spend on in-house IT solutions. The challenge then becomes finding the ideal balance between managing costs and ensuring reliable and effective IT support strategies are implemented.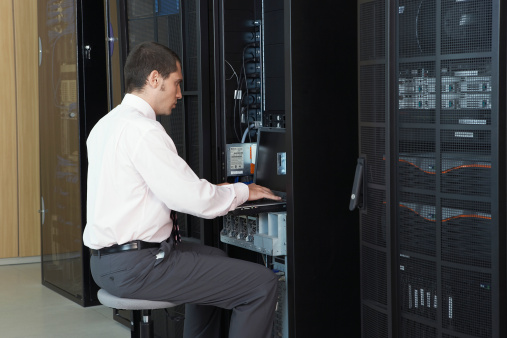 Outsourcing IT management is becoming an increasingly popular option for small business who are looking to get on top of technological challenges without neglecting the core objectives of their operational focus. By delegating IT tasks to an external management service, business owners, along with their teams, are able to prioritize business-centered objectives like expansion, customer allocation & retention, recruitment, marketing and sales.
Meanwhile, outsourced IT services create a supportive, functionally efficient technological environment through which these business objectives can be effectively pursued. When you think about it like that, outsourcing IT services – especially for small-to-mid-sized businesses – is a no-brainer. It's not just theoretical either – TechAisle reports that as of 2015, at least 40% of small businesses in the US will have had made the switch to an external IT management service.
It's not just about creating an environment most conducive to reaching business goals, managed service providers (MSP's) are also invaluable in their ability to create, protect and sustain functional networks. Through their ability to access, monitor, track progress, troubleshoot, perform maintenance and continually update, MSP's keep your technological networks and databases running as efficiently as possible. Because their business is IT support, MSP's bring a level of expertise and sophistication to IT management that simply cannot be duplicated by other, in-house solutions. MSP's can help reduce tedious IT annoyances and prevent productivity-halting IT catastrophes. Additionally, when the IT emergencies do happen, MSP's serve as focused and highly-trained 'emergency responders' who fix problems and restore productivity fast. 
The best part? Outsourcing to an MSP is usually much easier on the budget in comparison to securing similar IT management resources in-house. Most MSP's offer flexible payment plans with a consistent and reasonable monthly fee, while some even offer you the option of a 'pay only for what you use' model. This makes more sense than adding someone else to payroll.
Outsourcing IT management is fundamentally good for business. MSP's provide a continually secure and maintained network and allow business teams to focus on what matters most, namely, their business. They offer efficient support and invaluable expertise, all while keeping costs low and allowing business' to pursue what matters.
Could your organization be taking advantage of our IT management services? Get in touch with us to find out how we can make business even better. (403) 457-1478 or info@ctechgroup.net.
My passion is to make my mark on the world in a positive and lasting way. I want to set an example for my son that his father can compete with integrity in today's world, be very successful, and leave the world a better place for him.
Combining my technical/business-based education with a long career steadily progressing up the corporate ladder, I decided to build a company that held true to my values. So, I founded and designed the next generation of IT support firm: CTECH Consulting Group Inc. We are a completely automated, cloud-based IT company designed to compete against any other IT firm without the overhead. We promote a lifestyle to all our staff where they can work anywhere, at any time, access any information on any device that is relevant to their job, and collaborate with anyone they want to.