The default iPhone greeting message is just that – a default, generic placeholder to prompt callers to leave a message for you when you can't come to the phone. Callers have no way of knowing if they have reached the correct person or if they are potentially leaving a personal message on the wrong phone. Personal callers may simply be annoyed by the generic message – but for business calls, the fact that you've failed to pay attention to this detail makes a poor impression – and may even make that prospective client turn elsewhere.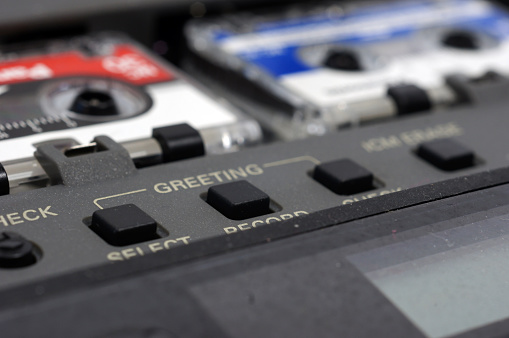 When you replace this generic greeting with a personalized message of your own, you make it easy for callers to proceed with confidence – and increase the likelihood that they'll actually leave a message. Updating the voicemail message with your own greeting allows you to let callers know they've reached the correct person; the process is fast and easy.
How to Change the Outgoing Voicemail Message on IPhone (iOS 9 or later)
Tap the phone icon (the same one you use to make a call).
Tap the voicemail icon in the lower right of the screen (it's the one that looks like an old-fashioned cassette tape).
You'll be taken to a screen that lists all of your recent voicemails; tap on the word "Greeting" in the upper left portion of the screen.
Tap the "Custom" message button.
Tap "Record" and record your outgoing message. Include a greeting, your name and position, if relevant, and a request for the caller to leave a message; short, to the point and professional greetings are best if you are using the phone for business.
When you have finished speaking, tap "Stop."
Tap "Play" to listen to your message and make sure you are happy with it. If you like it, go on to the next step. If you do not like it, press "Record" again and give it another try.
When you are happy with your message, choose "Save" to make it your default greeting.
Update Your Message as Needed
Use the same process any time you need to update your outgoing message. You may find you need to redo your message after an iOS update; some recent updates caused problems with voicemail messages and related apps. You can also update the greeting to reflect time out of the office or to quickly disseminate information to anyone who calls you.
It's never been easier to stay in touch and make the best possible impression on your callers. CTECH Consulting Group is the trusted choice when it comes to staying ahead of the latest information technology tips, tricks and news. Contact us at (403) 457-1478 or send us an email at info@ctechgroup.net for more information.
My passion is to make my mark on the world in a positive and lasting way. I want to set an example for my son that his father can compete with integrity in today's world, be very successful, and leave the world a better place for him.
Combining my technical/business-based education with a long career steadily progressing up the corporate ladder, I decided to build a company that held true to my values. So, I founded and designed the next generation of IT support firm: CTECH Consulting Group Inc. We are a completely automated, cloud-based IT company designed to compete against any other IT firm without the overhead. We promote a lifestyle to all our staff where they can work anywhere, at any time, access any information on any device that is relevant to their job, and collaborate with anyone they want to.