JP Morgan Expects a Leap from 16% to 41% of Global Enterprise Market in Just 5 Years  
According to JP Morgan's latest financial industry report, roughly 16 percent of workloads currently run in the public cloud. Within the next five years, the financial giant says that we can expect that number to jump to 41 percent, indicating a 20 percent compound annual growth rate in future cloud computing for the financial sector.
While some of the biggest players in the financial industry prepare to adjust their budgets to devote a greater percentage to cloud technology, the industry reports that non-cloud spending has seen a 2.7 percent decrease overall.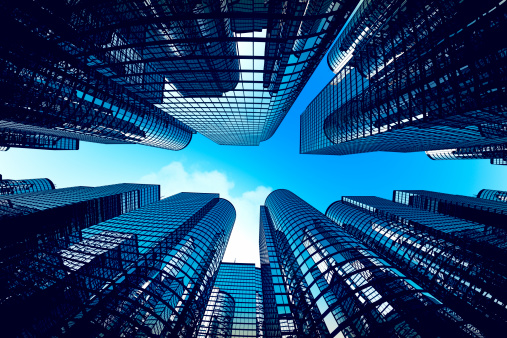 The numbers come from a survey conducted of over 200 CIOs with annual budgets of more than $600 million. The data gleaned from the project provides valuable insight to investors and to the tech industry as a whole as the world moves toward a more cloud-centric method of computing.
Microsoft Steals the Lead as Top Mega-IT Cloud Vendor
In JP Morgan's survey, the CIOs questioned were asked to rank the capabilities of potential mega-IT cloud vendors going forward—and the results indicate that it's a bit of out with the old, in with the new—with the exception of Microsoft, of course.
1. Microsoft for the win. Not surprisingly, Microsoft is considered the most critical mega-vendor at 46.9 percent of CIO respondents—a statistic that pays homage to the company's enduring reputation as a reliable, consistent enterprise partner.
2. Amazon comes in strong at second. At 13 percent, relative newcomer Amazon catapulted over other long-standing IT providers, signaling a massive "changing of the guard." JP Morgan's industry analysts point to Amazon's attractive ROI and the company's familiarity to IT professionals as positioning it for even greater success.
3. Cisco gets the bronze at 11.6 percent.
4. Oracle plays runner-up to the top three at 11.1 percent.
5. SAP pulls in at 9.2 percent.
6. IBM is at 4.3 percent.
7. EMC comes in at 1.9 percent.
8. Apple is next to last at 1.4 percent.
9. HP pulls up the rear at 0.5 percent.
According to JP Morgan's analysts, the data shows that more traditional, local on-premises solutions are getting phased out as cloud computing takes an even greater hold on the financial sector.
In this shift to a new leaderboard of mega-IT cloud vendors, the firms with the biggest risks are old-school operators like IBM and HP. It appears these industry veterans are going to have to up their game to keep pace with the new guys on the scene, who have the advantage of being more flexible and perhaps even more competitive.
IBM Tops the Biggest Loser List
When tasked with evaluating the list of IT veterans who stand the most to lose as the industry shifts workloads to IaaS vendors and next-generation cloud platforms, the analysts explained that those vendors with the highest share of on-premise infrastructure fared the worst. The leading losers were IBM, HP, and Oracle—all vendors with the common thread of spanning across services, hardware, and software in an "enclosed infrastructure stack."
IBM came in as the biggest loser with 26.1 percent of respondents saying the legacy vendor would lose most of its market share to Amazon and Microsoft Azure. The rest of the market-share losers were identified in descending order as HP (15%), Oracle (14.5%), and EMC (11.6%).
The final topic in the survey asked the CIOs to identify the smaller vendors with the most momentum. In this area, Tableau (8.2%), Palo Alto Networks (4.3%), and Qlik (3.9%) topped the list as the most promising vendors.
CTECH Consulting Group is your local cloud service provider and IT security expert. If your business has questions about migrating to the cloud, contact us at (403) 457-1478 or send us an email at info@ctechgroup.net for more information.
My passion is to make my mark on the world in a positive and lasting way. I want to set an example for my son that his father can compete with integrity in today's world, be very successful, and leave the world a better place for him.
Combining my technical/business-based education with a long career steadily progressing up the corporate ladder, I decided to build a company that held true to my values. So, I founded and designed the next generation of IT support firm: CTECH Consulting Group Inc. We are a completely automated, cloud-based IT company designed to compete against any other IT firm without the overhead. We promote a lifestyle to all our staff where they can work anywhere, at any time, access any information on any device that is relevant to their job, and collaborate with anyone they want to.